Timeless Professionalism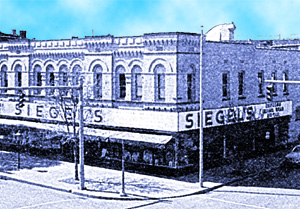 Siegel's Uniforms is proud to greet a third century offering the most complete service for all your uniform needs. Since 1897, Siegel's Uniforms has offered the best selection and quality for hard working professionals. Our president is Matt Baumeyer, carrying on a rich tradition of service and quality.
Siegel's & Evansville from Evansville Living Magazine (pdf)
Quality and Selection
Siegel's Uniforms only stocks quality uniforms at competitive prices. We concentrate on name brands such as V.H. Blackinton, Blauer, Dickies, Elbeco, Flying Cross by Fechheimer, Red Kap, Rocky, Horace Small and more. These lines have over the years proven to have excellent fit and durability.
Service and Convenience
Siegel's Uniforms has known for over 100 years that the key to good service is a large inventory of uniform clothes and accessories as well as a highly skilled alteration staff to tailor your uniform to your specific needs. Walk-in customers often leave with their uniforms the same day. Phoned-in and internet orders are usually shipped within 1-2 days. Just call us toll-free at 1-800-352-2555 or visit us at 300 N Congress Ave, Evansville, IN 47715.
In-house Custom Embroidery and Customization
Over the past ten years, Siegel's Uniforms has developed a complete line of custom embroidery, performed in-house by dedicated specialists with the help of the latest digitizing equipment.

Specifications and Prices
At Siegel's Uniforms we take pride in providing the right clothing for every individual, department or agency. We will gladly submit a written quote—at group rates—for your consideration. We look forward to serving you.