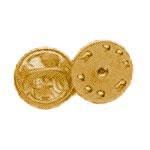 Brass Clutch Backs (10 pack)
Estimated Ship Time:
Ships in 2-4 days.This item is normally in stock; however, availability in size, color, etc. may vary. Please call ahead of time if you plan on purchasing this item in the store.
Product Description
Replacement clutch backs for nail backings on badges and insignia. Package of 10.