Part of the cross over appeal of the 511 Tactical Company has lied in their ability to meet the needs of their customers. One way the utilized customer feedback was in developing a work boot designed to be functional, durable and most importantly comfortable under extreme pressure. The entire line of work shoes and boots made in various styles and colors meet the high standards set by 5.11 Tactical. A favorite of Law Enforcement, EMS/EMT's, Firefighters, and various other uniformed service people, their appeal has crossed over by word of mouth and the shoe/work-boot line is now popularly used by 5.11 customers for hiking, motorcycle riding, yard work, farming and other activities.
511 Tactical brands of fo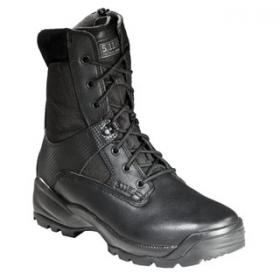 otwear and boots are very comfortable, lightweight, waterproof and quiet. Customers use them for motorcycle riding and work wear. Designed to appeal to the needs of Law Enforcement officers, one can sneak up on someone and they won't hear you. The tongue is closed on both sides up to the top which keeps water from getting in when walking, hiking, running or riding in the rain. They are lightweight so it is easy to walk around foe extended times in. The side zipper on the Tactical Boot, and other 5 11 Tac footwear, is smooth and convenient. They meet their customers' needs perfectly and if there is a problem, their service representatives are quick to meet the needs of their customers. So comfortable, some people claim to forget they are wearing them.
How many times have people claimed that they can't find comfortable and durable shoes and boots, especially for work? Customer reviews are taken very seriously by the 511 Tactical team. When searching for the overall customer comments about the foot wear line include these…, "They resist water well and are comfortable right out of the box. I like a firm supportive boot that gets good traction and does not slip when transitioning from surfaces such as a wet garage floor. The boots stay comfortable with extended wear. There is a good balance between durability and comfort. I compare boots each time I buy and return to this model."
511 used to be the proverbial 'new kid on the block' when they started but over the past roughly five years, they have developed the highest reputation by the most discerning and detail oriented of clients. Although they are good at a lot of things, 5 11 Tac has excelled in quite a few as well. One of those ways is adapting footwear into being good-looking, hard working and comfortable. Customers have described the foot wear to feeling as comfortable as wearing tennis shoes. 5.11 Tactical shoes and boots also provide solid support for the ankles and spacious feel for the foot. Rolled ankles and painful feet are preventable with good footwear and these shoes and boots provide just that. Security and Law Enforcement, Military professionals and others have heard the name and reputation of the 5 11 Tactical company and because of top-notch customer service and a high quality product, word is spreading to others as well.