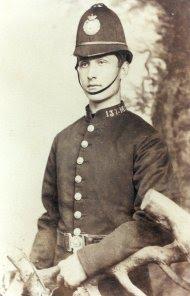 Police in England during the 19th Century first realized the necessity and added benefits of using uniforms while on duty. Uniforms obviously increased visibility and they added credibility to the perception of Law Enforcement by the general public. Uniforms were also used to further emphasize the divide between the military and local police officers. Initially, police uniforms identified the police as separate from the military but appeared to serve a number of other purposes after implementation. The high profile visibility of the Uniformed Police Officer also deterred criminal activity in and of itself, because lawbreakers would curtail their criminal conduct in the presence of an officer and a citizen in trouble could, without any doubt, spot an officer in a multitude of people, and increased the perception of professionalism and trust between the police and civilian population.
Since their inception in the late 1800's, police uniforms have evolved to meet the changing tasks placed on a more advanced and modernized law enforcement officer, and also reflected changing styles of their times. Early uniforms included a "high-collared, tailed, dark navy wool coat with shiny buttons, and a cane top hat." The tails were removed, creating the tunic style uniform coat, and a helmet that was peaked top with a chinstrap, called a custodian helmet. The U.S. uniform was redesigned to include blue pants, blue buttoned shirt and a flat, cap-style hat with a visor on the front, by the 1950s.
As police uniforms have changed to increase mobility, visibility and safety of officers over the years, modern uniforms accommodate many different aspects never conceived of at first design. Law Enforcement uniforms in the U.S. have become highly specialized; U.S. police forces now offer a variety of uniforms depending on division, specific occupational function, and even for different weather. Motorcycle Police have very durable uniforms with high quality all-leather coats and protective helmets, Bicycle officers wear short pants and golf-style shirts, while special weapons and tactics teams (SWAT) wear reflective jackets, body armor, stab vests, and full-face visors, State Police, Sherriff's and Local Police all have different styles and colors of uniform.
Law enforcement uniforms now include a variety of options that help officers execute their daily duties. Tactical gear, shoes and holster belts for tasers and guns are items that can be found on some patrol officers. Investigators and detectives in different departments may wear completely different attire, including a suit and tie, since the majority of their work is done in an office environment or in the judicial system and uniforms may be unnecessary. These officers still carry holsters that hold weapons for protection and have added special features to accommodate their specific needs.
There are a variety of police uniforms and the styles vary depending on the location of the agency. Each branch of law enforcement uses different uniforms and although they vary in styles, they are still used most effectively to attain the same purpose they did hundreds of years ago, to increase visibility and help officers perform their jobs. It is vital that a law enforcement officer wear his or her assigned uniform correctly in order to be recognizable in case law enforcement services are needed. The main purpose of the police uniform is to increase respect from the civilians while emphasizing the presence of integrity when confronted by would be criminals.
Resources:
The History of the Police Uniform from eHow.com