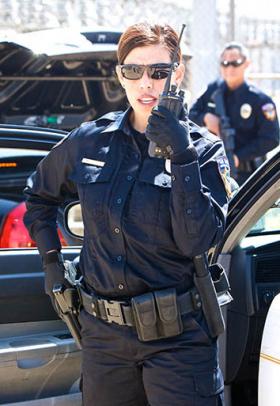 Women in Law Enforcement used to not only be a rarity, but before a group of women in New York City sued for the right to become police officers, it was all but prohibited for a woman to become a cop. Things have changed tremendously over the years regarding the attitudes about women in Law Enforcement. Not only are women allowed to be Police Officers, but Law Enforcement agencies are actively seeking to hire females to benefit the force overall and the United States government, as well as other institutions, offers scholarships and grants especially for females looking to enter the field.
Nowadays, Law Enforcement offers unique opportunities for women. In the post 9/11 era, many females have sought to fulfill their desire to serve their country, but many women are hesitant to leave family behind. Law Enforcement offers the best of both worlds, the benefits of serving while being able to stay in the country. Law Enforcement also offers multiple employment opportunities in a less-than-stable job climate. Women are not only being considered for these jobs but chosen specifically for what they bring to the working environment.
Women improve the overall quality of a police force, including offering different ways of dealing with conflict. Women may not have the raw muscle of men, but their courage, inventiveness and communication skills make them ideal for working in Law Enforcement. Many male police officers could learn much from their female counterparts. It's been proven that size has nothing to do with being a good police officer and according to the U.S. Bureau of Justice; here are some facts to consider regarding women in law enforcement agencies:
Women officers are as competent as their male counterparts.
Women officers bring skills and abilities to the job that facilitate cooperation and trust between police officers and citizens.
Women officers have a style of policing that relies less on physical strength, and they are less likely to become engaged in incidents involving excessive force.
Hiring more women police officers will improve a law enforcement agency's response to domestic violence against women—the largest category of calls to local police departments.
Increasing the number of female officers in a law enforcement agency reduces sexual discrimination and sexual harassment in that agency.
From less than 2 percent in the early 1970's to just over 12 percent today, women continue to leave their mark on the criminal justice system and companies catering to Law Enforcement are paying attention. Highly reputable Law Enforcement Uniform companies such as Elbeco and Fechheimer offer extensive Ladies Lines of uniform clothing like the Ladies' Choice line from Elbeco. With designs "for women, by women," companies like Elbeco and others reiterate Law Enforcement's active recruiting of females specifically and encourage women today to reconsider Law Enforcement as a viable career option. Most women never even consider a career in law enforcement to begin with, due to their misunderstanding of the nature of the job, and the hostile and severe images portrayed in the media, the hope is, as attitudes within Law Enforcement change, so will the perception throughout society.